Posted on May 11, 2015 by Fusion Connect
Businesses thrive on collaboration and the ability to make decisions quickly and efficiently. Cloud–based unified communications (UC) solutions have gained attention as a cost-effective and easily implemented collaboration and communication solution. According to Infonetics Research, Hosted PBX and UC services are expected to grow at an annual rate of 13 percent and to reach $12 billion by 2018 with more than 62.6 million seats in service.
Cloud-based UC lacks the risks associated with implementing an on-premises off-the-shelf or homegrown UC solution. Unlike an on-premises solution, cloud-based UC doesn't require you to acquire, set up, and maintain physical servers. Cloud-based UC almost always integrates with a Hosted Voice telephony service. Here are some factors that companies considering UC should be mindful of.
Identify your UC needs. Gain a clear picture of your UC requirements. Among UC features, consider which HD voice features will fit your teams, the business they do, and how they work together:

Presence – know when to reach a colleague. A presence indicator shows their status, e.g., Available, On a Call, or Away
Instant Message or Chat – resolve questions or make decisions more quickly with real-time, text-based communication between two or more participants
Video Calling – bring a personal touch and visual cues to calls
SMS Texting – Text mobile contacts instantly using your Hosted Voice business number rather than your personal mobile
Screen sharing – Share your screen with online meeting or conference call participants and get more done, more quickly

Find the right UC provider. Be sure to look for an internet phone service vendor who offers all the UC tools you're looking for. Select a hosted VoIP provider that will deliver not only a solid and easy-to-use UC platform but also user and administrator training and support, preferably 24/7. Also be sure that your UC provider can address concerns such as uptime guarantees. Consider UC solutions that users can easily download onto devices themselves, reducing or eliminating the burden for IT staff.
Follow these tips for implementation:

Get buy in from all levels
Be thorough with your requirements gathering and be sure the technology you are considering can support those requirements and your business goals
Find an executive sponsor
Assess your network for its ability to support UC
Run a pilot implementation with a subset of users
Plan ahead to minimize disruption
Communicate, communicate, communicate
The rationale for adopting unified communications is to improve collaboration, enhance productivity, and increase the speed of decisions.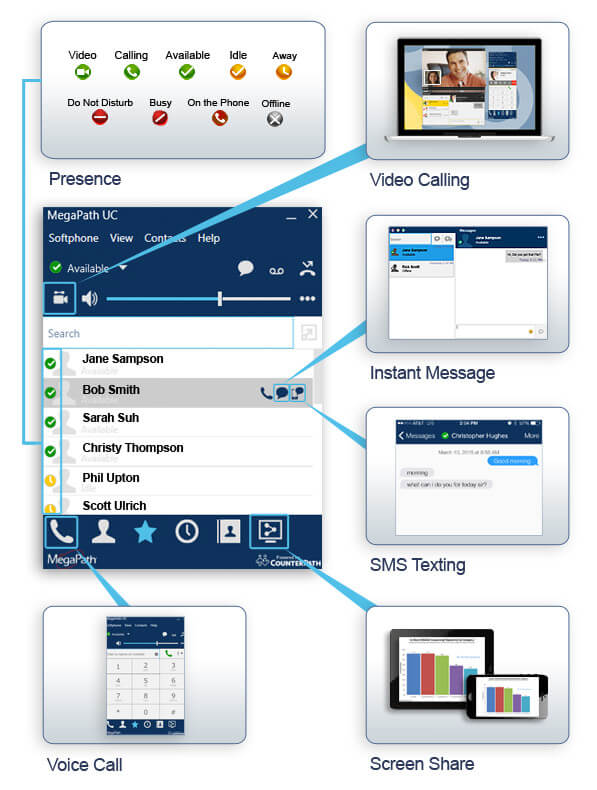 For more details on implementing UC, view our free webcast entitled Implementing a Unified Communications Service.
Unified Communications is easy to use and available on a range of devices including smartphones, tablets, laptops, and desktop computers running a variety of popular operating systems. Fusion Connect provides user and administrator training and 24/7 support. Plus, the voice network that supports our UC solution is reliable, regularly maintaining 99.999% uptime. To learn more about our VoIP phone services and unified messaging, visit the Unified Communications or call today at .