Posted on May 26, 2015 by Fusion Connect
The rapid adoption of devices in the workplace has helped many workers cut the cord to the office while at the same time introducing new challenges. For example, most workers have both a desk phone number and a mobile phone. Double the devices means twice the voicemail boxes and the nagging question in the caller's mind of which number they should try at which time of day.
Hosted VoIP offers call management features that help your workers regain superhero status by treating all their devices as one. The following scenario helps illustrate.
Despite a heavy travel schedule, a regional salesperson spends at least one day a week in the home office. He would like to give his prospects and customers just one phone number to reach him on (rather than separate desk phone and mobile phone numbers). Giving up his desk phone and using strictly his mobile phone for business purposes would be one option, but he prefers to keep his mobile number private. And without a desk phone he would be unable to extension dial colleagues, transfer a caller to the right person, or automatically forward all calls to the appropriate contact in case of a vacation or sick day.
If he could give out just one number, his prospects and customers wouldn't have to guess which number to reach him on. Plus, he could avoid checking and managing two voice mailboxes.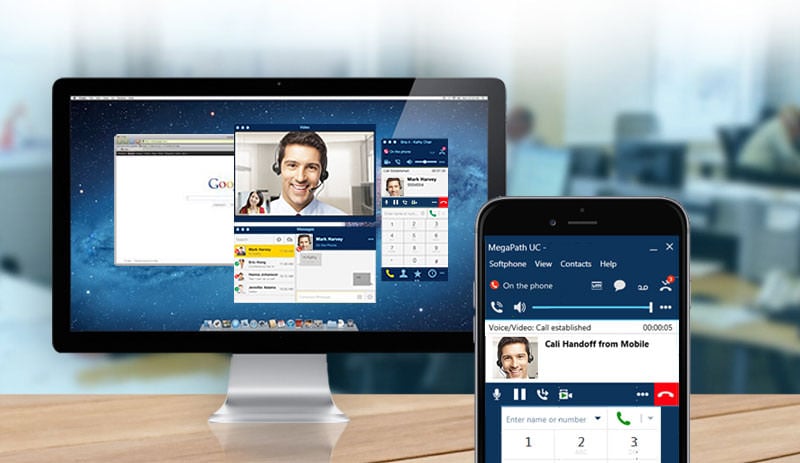 Make Any Device your Go-To Phone
With a Hosted Voice feature called Fusion Anywhere, this salesperson can use one number with every device. He gives out only his Hosted VoIP business number and makes and receives calls using this number on any device of his choosing. With a few clicks or taps in an easy-to-use portal, he can set his desk phone, smartphone, or hotel phone, for example, as his main device. Benefits include:
Whether he's calling from his home phone or smartphone, his calls always appear to originate from his Hosted Voice business line as if he's in the office
Outbound calls use his Hosted Voice calling plan minutes
He can deactivate devices in case he does not want to be reached
Switch an Active Call to another Device on the Fly
Let's say our salesperson is on a call on his desk phone with an important client and the time comes for him to leave the office to catch a train. He could offer to call again on his mobile phone en route but doesn't want to interrupt the conversation.
With Fusion Anywhere, he can move the call from his desk phone to his smartphone seamlessly. It's as easy as dialing the Fusion Anywhere portal number from his mobile and entering his PIN. Once he hears dial tone, he presses *11 on his mobile, and the call moves to his mobile. He's off to catch his train.
If he had been returning to his desk while talking on his mobile phone, the salesperson could have transferred the call from his smartphone to his desk phone just as easily.
Fusion Connnect Unified Communications Softphone clients support a similar call handoff capability, shown in the accompanying image. While using Fusion Connnect Pro UC on a smart phone, a user can transfer an active call to the UC softphone client running on a desktop or tablet computer, and vice versa.
Dozens of Standard Features Enhance Your Mobile Work Style
It's easy to see how Fusion Anywhere can help you have a better, more fluid calling experience with prospects, clients, and business partners. And it is just one of more than 50 mobility and calling features that come standard with any Hosted Voice subscription from Fusion Connnect.
Let Fusion Connnect Hosted Voice give you and your team new work-anywhere freedom. Call us today at .