Posted on August 27, 2014 by Fusion Connect
Fusion Connect is pleased to introduce our new Unified Communications (UC) service, a feature set available with Fusion Connect Hosted Voice that integrates voice telephony with other communication technologies such as:
Presence – The Presence feature enables users to see the availability of their colleagues within the Fusion Connect softphone client to aid in successful and swift communications. Employees can also set their presence status so their contacts know how and when to reach them, and establish unique presence status privacy rules for individual contacts.
Instant Messaging – Users can message with their corporate contacts and colleagues as one-on-one or group conversations, avoiding phone tag and lengthy waits for email responses.
Video Calling – With face-to-face conversations, users can see real-time reactions of colleagues, prospects and customers, resulting in more personalized conversations and better meeting engagement (less multi-tasking).
Screen Sharing – Users can invite up to 100 colleagues to view their desktop screen. Employees initiate the screen share and text or IM the meeting link from within the same program. Attendees simply click a link to join via a browser window. Screen sharing with Fusion Connect UC does not require attendees to install a client.
SMS Text Messaging – Users can text their contacts using their Business VoIP phone number instead of their personal cell numbers from within the UC client using their device of choice. Additionally, employees can leverage free WiFi to chat with colleagues and customers in real-time without incurring the traditional fees for similar services from a wireless provider.
Fusion Connect UC empowers colleagues to communicate and collaborate in real time using IM, Screen Sharing, SMS Texting, and Voice and Video Calling.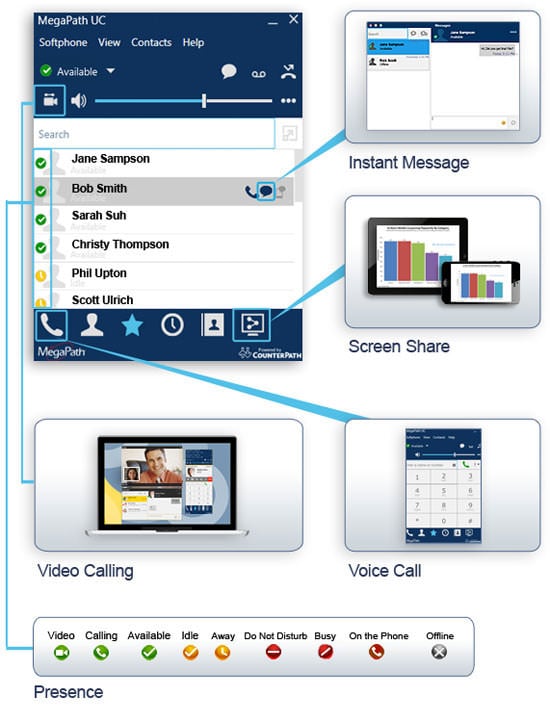 Fusion Connect's Unified Communications solution comes with desktop, mobile and tablet softphone clients for all major OS platforms, giving users a full-featured telephony experience on whatever device they choose. For more information, contact us today.