Microsoft Teams Christmas and Holiday Backgrounds
Why Do Microsoft Teams Holiday Backgrounds Matter?
Posted on December 2, 2022 by Fusion Connect
Whether you're working from home, in your hotel room while traveling, or at an office, you no doubt may be feeling the pull of the holiday season while still needing to perform at your best. Why not share the joys of the winter season by adding a professional yet festive background to your next Microsoft Teams meeting?
It's easy to switch Teams backgrounds before you join a meeting, but who wants to use the same stock backgrounds at the holidays? Playful backgrounds are best for less formal meetings, and can work well for social get-togethers, and impromptu conversations with colleagues. Your company may have guidance on what is acceptable or recommended as a background for meetings, so be sure to check that out. Also, test new backdrops to see how they work with your clothing and lighting. Access your camera settings in Teams, where you can adjust for brightness, contrast, saturation, and color balance.
TOP 10


Microsoft Teams
Christmas and Holiday Backgrounds

Bring some sparkle to your next Microsoft Teams meeting by using these custom, holiday-themed backgrounds designed by Fusion Connect. You can fly through the air with a whimsical Santa and his reindeer, show up in a calm snowy forest backdrop, tee up for New Year excitement, or set the scene with a first-fruits still life or dreidel game.
---
#10

Christmas Teams Background
Bring Some Whimsy Into Meetings with Santa's Sleigh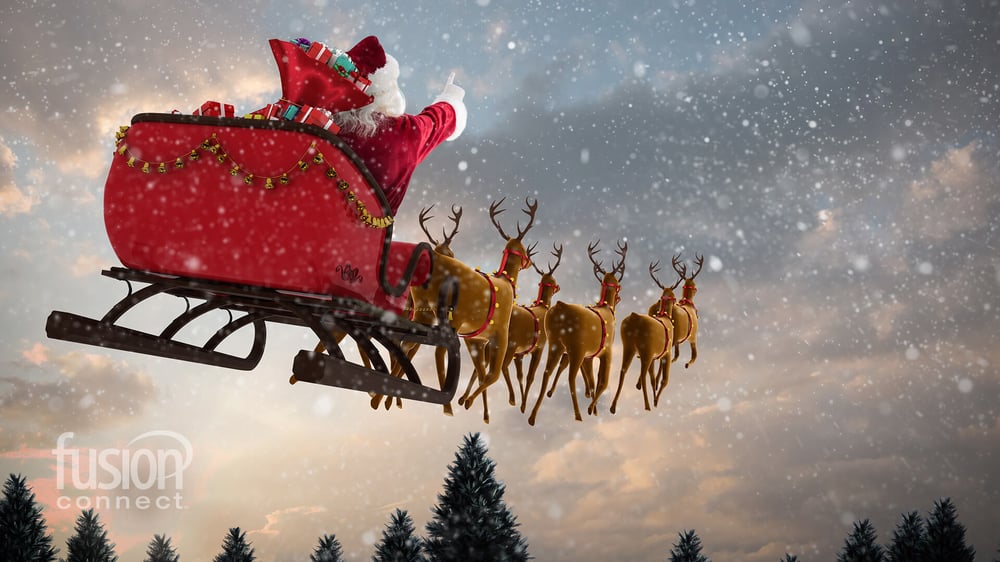 Ride along with Santa and his tiny reindeer in this delightful Microsoft Teams Christmas background, showcasing the jolly old elf flying to deliver gifts to children around the world. Perfect for a Secret Santa gathering or similar celebratory meeting in the month of December. Virtual meetings can be jolly during the Christmas season!
---
#9

Winter Teams Background
Enjoy a Peaceful Meeting with a Soothing Snowy Forest Scene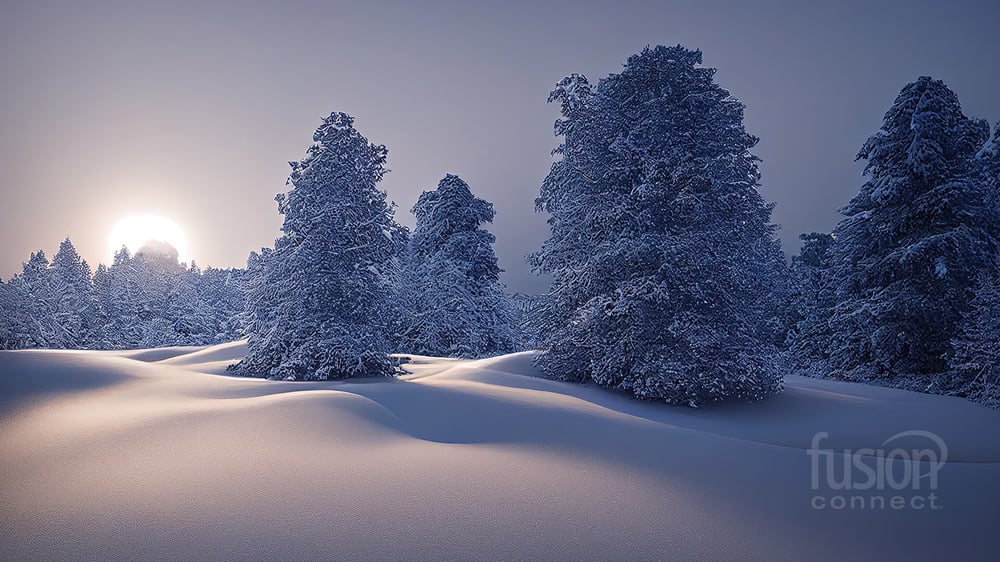 Have end-of-year projects (and holiday shopping) got your team feeling overwhelmed rather than energized? Try logging in with this beautiful solstice backdrop featuring a winter scene with powder-covered trees and a calming snow-blanketed forest floor. Do your best not to daydream about cross-country skiing!
---
#8

Hanukkah Teams Background
Offer a Little Optimistic Fun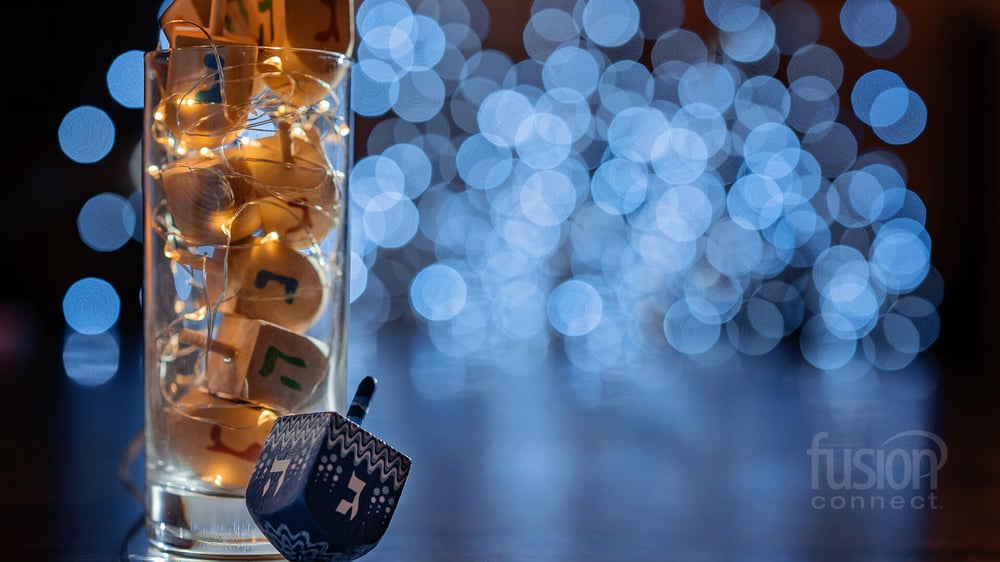 This delightful background connects with your inner child, reflecting the fun and hopeful themes of Hanukkah, including games and shimmering light, and blue, a symbol of peace, calmness, and tranquility. Great for use with gift exchanges or other social settings. All that's missing are the latke, chocolate coins, and jelly donuts!
---
#7

New Year's Teams Background
Lighting the Shortest Days of the Year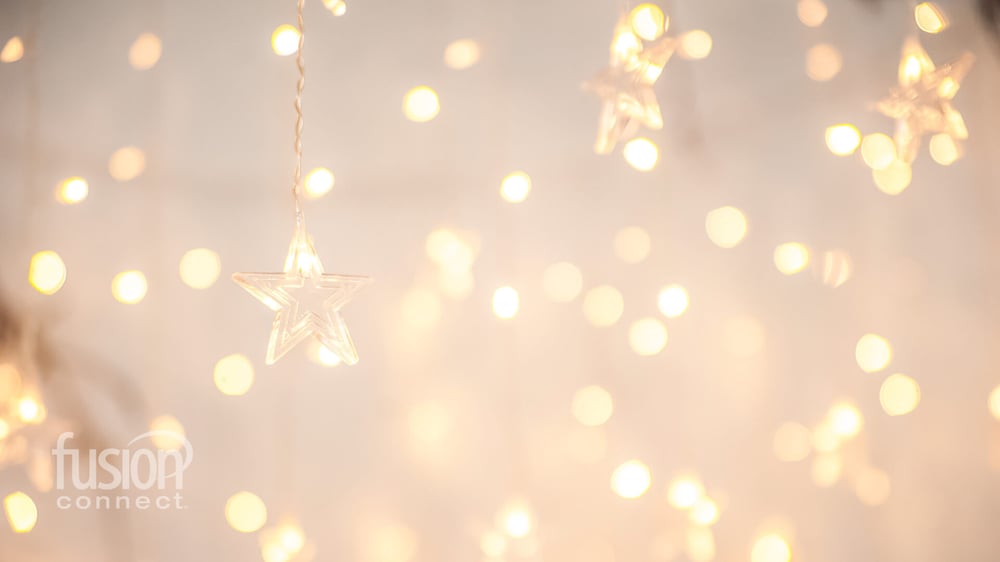 If you live in the Northern Hemisphere, December's short days and darkness can be exhausting. Share some festive lights and sparkling stars when you dial into the final Teams meetings of the year. This low-key background can be used for almost any formal or social call. Pro tip: the golden glow of this background can make some complexions look washed out. Appropriate lighting, such as a ring flash, can help lessen this effect.
---
#6

Kwanzaa Teams Background
Celebrating Cozy Comforts of Family Feasts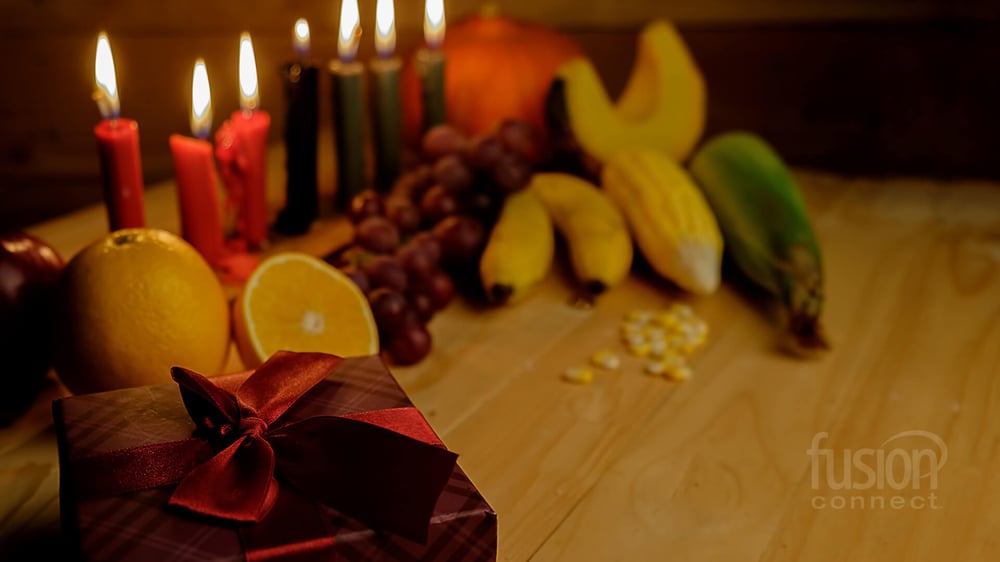 Autumnal and winter gatherings are often focused on gratitude. The African American and Pan-African cultural holiday of Kwanzaa is featured in this backdrop that includes traditional fruits and seven candles. This is a lovely background for social workplace gatherings that focus on accomplishments of the team and fellowship with your colleagues.
---
#5

Winter Teams Background
Driving Through the Snowy Woods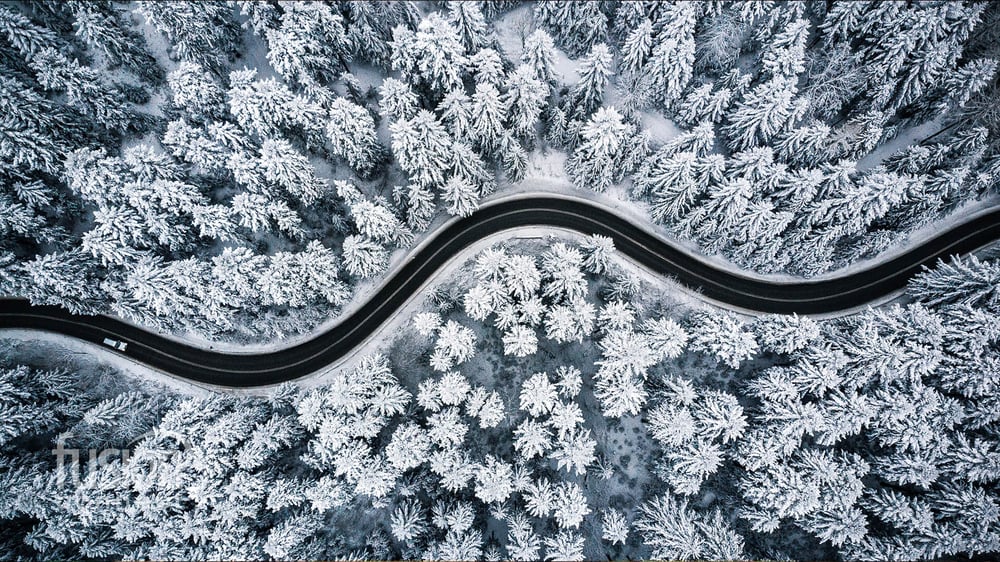 Are you on your way to grandmother's house or calling into a Teams meeting? Your colleagues will appreciate this beautiful snow scene no matter where they live. Coworkers from warmer climates might be jealous!
Always be sure to test out new backgrounds before using them, so you can determine if the style and colors work for you. You can adjust the lighting before clicking "Join" to enter the meeting.
---
#4

Christmas Teams Background
Picture-perfect Home and Hearth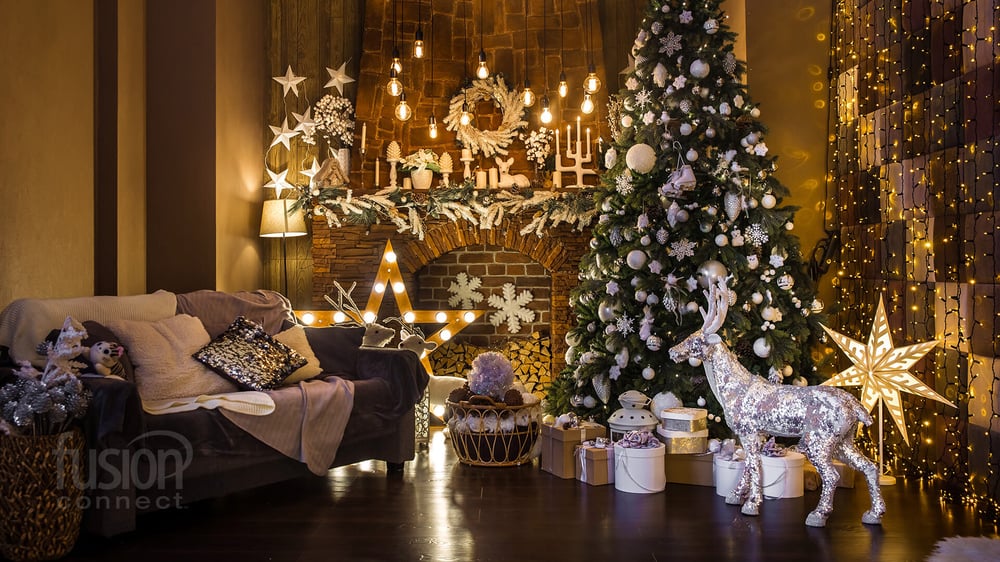 Have you decorated for Christmas yet? You can have this restful retreat with a cozy fireplace as a backdrop to your Microsoft Teams meetings with no time, effort, and expense required! This background is ideal for those workplace holiday get-togethers that might be flavored with hot chocolate and recollections of past celebrations.
---
#3

Hanukkah Winter Teams Background
Snowflakes and Chilly Blue Skies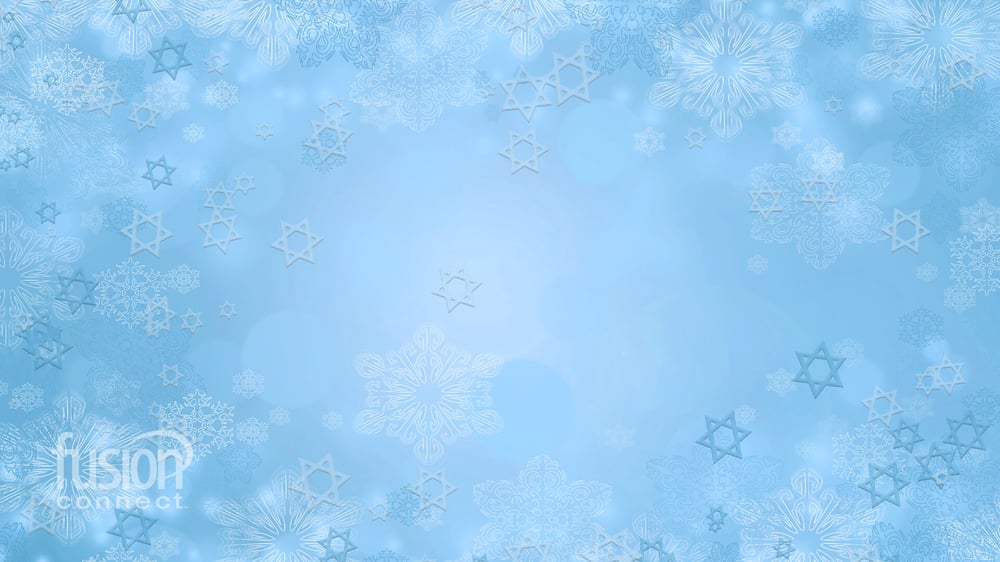 Blue and white reflect the cold, snowy reality for those of us in cooler climates. This Microsoft Teams background also subtly displays a symbol of Hanukkah: The Star of David, along with icy snowflakes. It's a cool and refined choice for meetings that call for calm design with few distractions.
---
#2

Thanksgiving Teams Background
Brighten up the Virtual Meeting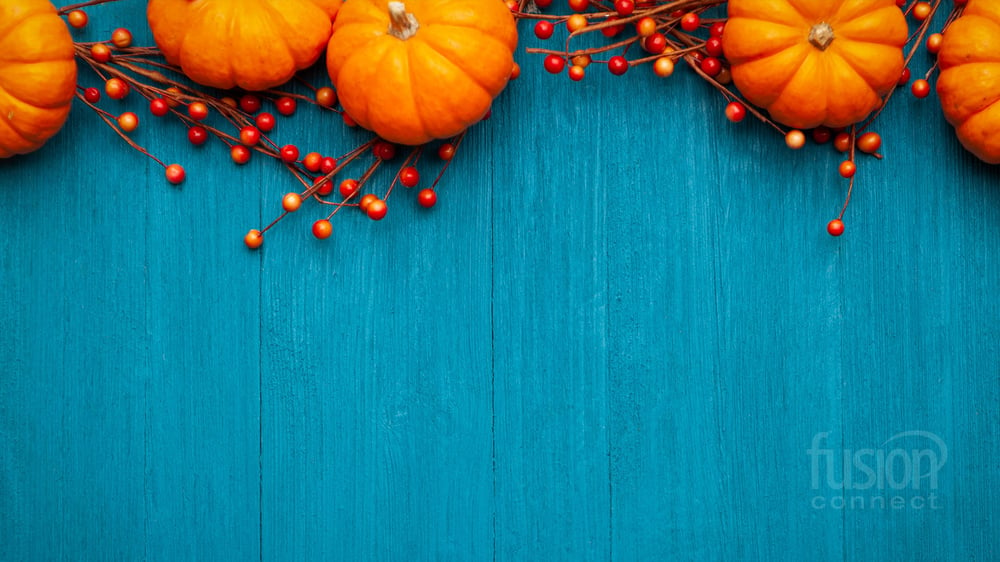 During the start of the Fall season, you may be looking for a bright backdrop to get into the holiday spirit. This Thanksgiving-inspired Microsoft Teams background features cheerful pumpkins and fresh cranberries against a blue-washed wooden backdrop. It's particularly appropriate for casual meetings among coworkers during the last weeks of November and even into the last days of fall in early December.
---
#1

New Year's Teams Background
Countdown to Longer Days!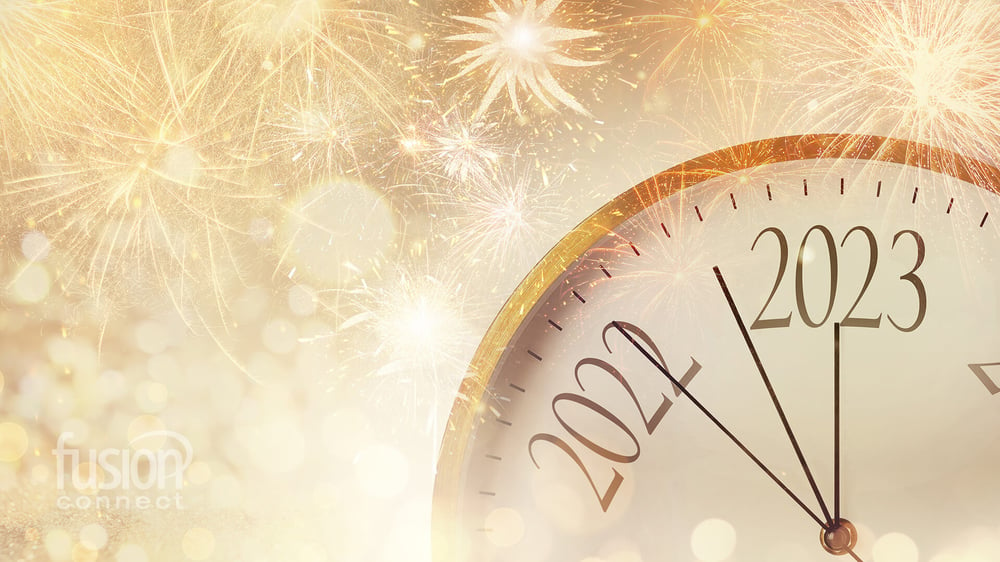 This shimmering background with a New Year's clock celebrates the end of one year and its shortest days and anticipates the advent of increasing sunlight and energy. Great for year-end team meetings and social workgroup gatherings, this Microsoft Teams meeting background can be used through the early days of the New Year.
---
Microsoft Teams Holiday Backgrounds
Throughout the year, you can use various backgrounds and background settings in Microsoft Teams to set the right tone for interactions with colleagues and clients. Reflecting and acknowledging holidays like Christmas, Hanukkah, and Kwanzaa or seasonal shifts, such as winter to spring or summer to autumn, can keep the meeting mood light and engaging. Microsoft Teams makes it easy to show your personal style while maintaining professionalism with each virtual conversation or meeting.
We hope you like the backgrounds we developed for this holiday season. You can find even more at the Microsoft Teams Backgrounds Gallery.
---
Microsoft Teams, More Than Just Holiday Backgrounds
Microsoft Teams is not just for video meetings.
Fusion Connect now offers Operator Connect for Microsoft Teams, which allows businesses to turn Teams into a business phone system. With this new service, employees can make direct calls to almost anyone through Microsoft Teams, no matter what device is on the other end. Likewise, Operator Connect features dedicated local phone numbers that your employees can answer on any device, including PCs, smartphones, tablets, and Teams-enabled desk phones.
Book a Free Trial and Demo of Operator Connect for Microsoft Teams
Microsoft Teams
Calling Services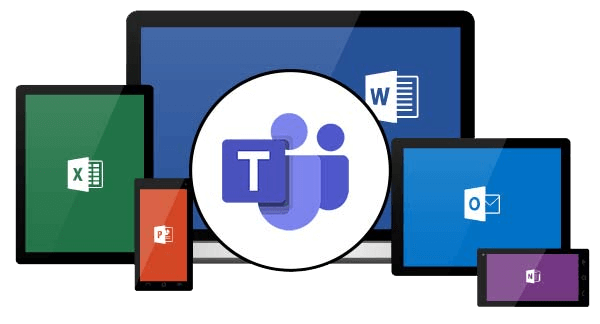 Make calls to mobile devices and landlines through Microsoft Teams with Operator Connect.

Expert insights, exclusive content, and the latest updates on Microsoft products and services - direct to your inbox. Subscribe to Tech ROUNDUP!
Is Your Internet Speed Performing As Promised?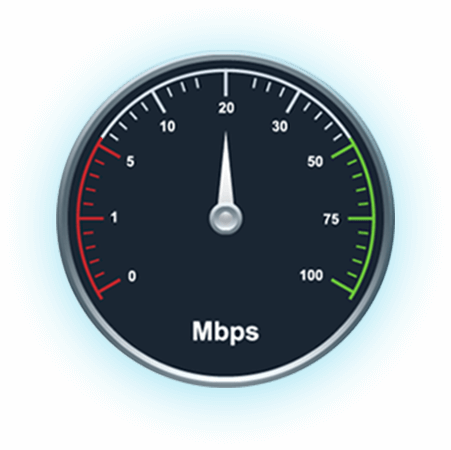 Measure your internet speed and get insight on jitter and latency.